Contact Comedy Magician Michael Douglas to bring a hilarious family friendly magic show to your event.
Retirement Communities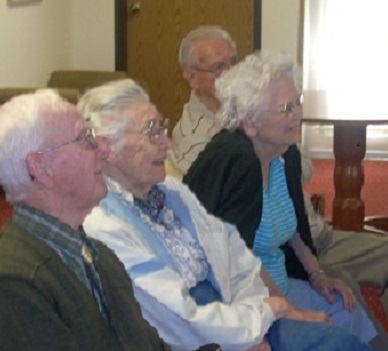 Corporations serving the seniors in our communities will hire Comedy Magician Michael Douglas to bring his warm and friendly magic show to retirement communities and care facilities of various levels.  He uses tricks that are colorful and sometimes uses audience volunteers when they are able.  An amplifier is always used to assure residents can clearly hear the magic show.  Sometimes these communities will invite Michael to perform a magic show on "Grandparents Day," or other events where their grandchildren may be present.
Children's Events
Comedy Magician Michael Douglas works with a team of other Magicians to deliver comedy magic at events for children.  Please visit us at www.ComedyKidsMagic.com for more details.
What Does a High Quality Comedy Magician Cost?
Click Here For Your No Obligation Price Quote
or call 804-852-6691
Home Owners Associations & Apartment Communities
Home owner associations and Apartment Communities have repeatedly hired Magician Michael Douglas to entertain at various holiday events for adults as well as children.  The show type and length can be customized to suit your needs.
Churches & Houses of Worship
Comedy Magician Michael Douglas has lots of experience working with the "Faith Community."   This includes being a guest speaker, instructor, event coordinator, and more.  He can bring family friendly comedy magic that will entertain the young and old alike. 
Charity & Fund Raiser Events
This photo is from a fund raising event for "Relay For Life".  Michael's talent at entertaining various types of audiences is ideally suited to help you raise funds for your cause.  Whether walk-around magic or a comedy stage show is better for your event, Michael will help you promote it with flyers, posters, and social media.  Contact him today with your details.
Family Reunions
Family reunions are such a special time.  To enhance the memories that your gathering creates, Comedy Magician Michael Douglas can help make those memories last a lifetime.  Michael will use you and your family members in a variety of tricks that are sure to bring lots of laughs and some great pictures.
Retirement Parties
Celebrating the milestone of Retirement is an awesome thing.  Michael can help you and your guests have a great time.  These events can be initiated with walk-around magic and later follow dinner with a stand-up comedy magic show.  Let's talk.
Click Here Now To Reserve Your Date
or call 804-852-6691
Related Article: Corporate Magician
Related Article: Wedding Entertainment